Who are we?
We are a private bilingual early childhood care facility recognized by the Ministere de la Famille. We are your child's home away from home. We are here to offer your child a complete nurturing and educational environment. We have a permit of 30 children exclusively and within this space each and every child is recognized and celebrated daily.
Our mission
Our goal is to provide your child a complete educational program approved by the MFA to help your child reach their full potential and setting them up for a successful journey to school. Our educational program is inspired by Acceuillir le petit enfance and integrated with HighScope learning which focuses on your whole child (mind, body, and soul).
Director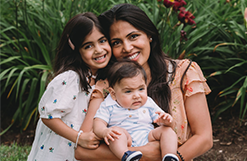 Mehwaish Raja
Education: B.A. – Child Studies – Concordia University
B.ed. – Kindergarten and Elementary – Mcgill University
Miss Mehwaish Raja is an elementary school teacher and has taught Elementary school for close to five years. She has also close to ten years experience working as an educator in both private and public daycares in Quebec. Having seen and experienced both public and private daycares, she decided to manage and direct her own daycare to bring the best possible experience to the children attending Kiddy Kat daycare. She has been directing and managing Kiddy Kat daycare since March 1, 2015. Her passion is to bring joy and love to your child's life. She continuously strives to create the best possible environment that is safe, inclusive, diversified, and open to all children. She describes herself as a lifelong learner and her source of inspiration are your little ones. She keeps herself informed and educated on the latest educational practices and is always ready to implement them at Kiddy Kat daycare. Last but not least, she is a mom of two children under five and she knows just what your child needs are for a great educational and loving environment.
All Kiddy kat staff members have to complete a First Aid Course specialized in early childhood care, along with a complete background check. The Kiddy Kat team is fully bilingual, and prepares weekly lessons plans that take into account the children's learning goals.
Assistant Director and Educator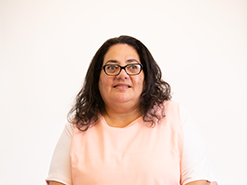 Anna-Maria Ruggeiro
Miss Anna has been working at Kiddy Kat daycare for over ten years. She has completed the programme technique de la petite enfance at CDI college in 2010. Miss Anna is the qualified educator for the poupon classroom at Kiddy Kat daycare. She is also the assistant director and is always looking for innovative learning experiences for the daycare. She enjoys art and baking both of which she incorporates in her weekly lesson plans. She is affectionate and full of love that the little ones are drawn to.
Qualified Educator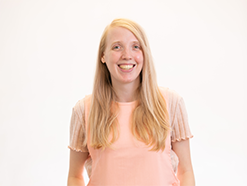 Megan Laplante
Miss Megan has been teaching at Kiddy Kat daycare since November 2018. She has completed her early childhood education at Vanier college. She is full of energy and she is sure to bring that to her classroom. Miss Megan is a qualified educator and teaches both the toddler and baby room at Kiddy Kat daycare. The children love her bubbly personality and she is always ready to help.
Qualified Educator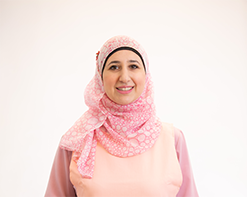 Suzan Abdul Latif
Miss Suzan is a graduate in Bachelor of Education - Child Studies from Concordia University. She has also completed a diploma in Human Relations and Family Life Education at McGill University. She is a qualified bilingual educator. She loves teaching little children, and having two of her own she respects and adores each child under her care. She is very friendly and approachable. She specializes in the French program, and will be teaching the Francais Plus program along with introduction to STEM technology in the Pre-K classroom. We welcome Miss Suzan with a warm heart as she just recently joined the Kiddy Kat team.
Nous accueillons chaleureusement Madame Suzan qui s'est récemment jointe à notre équipe Kiddy kat.